Cooking for Crowds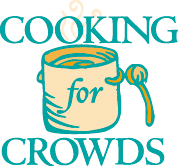 What is Cooking for Crowds?
Cooking for Crowds is a program designed for large groups, fundraising entities, churches, and any group that cooks for large numbers of people.
Why Cooking for Crowds?
Food-borne illness, commonly known as "food poisoning," sickens approximately 1 in 6 people in the U.S. each year. That's 48 million people! The most common types of food-borne illness include Salmonella, E. Coli, Listeria, and Norovirus. Food-borne illness results in unpleasant, sometimes severe, gastrointestinal discomfort, vomiting, diarrhea, headache, fever, and chills. Dehydration resulting from the symptoms of food-borne illness is also common.
Food-borne illness can result in hospitalization and even death. Protect those you serve from food-borne illness through gaining an understanding of pathogens that cause food-borne illness, improper food handling, poor hygiene practices, neglect of temperature control, and more.
Restaurants and food workers are required to receive in-depth food safety training. Churches, civic groups, and fundraising entities can also receive a FREE one-day training- it could be the difference between a successful event and an outbreak of food-borne illness.
If you would like more information or to receive Cooking for Crowds at your church or organization, contact Family and Consumer Sciences Agent, Cassidy Hobbs at 252-237-0111.