Cultivating Future Leaders–Program for Teens in Agriculture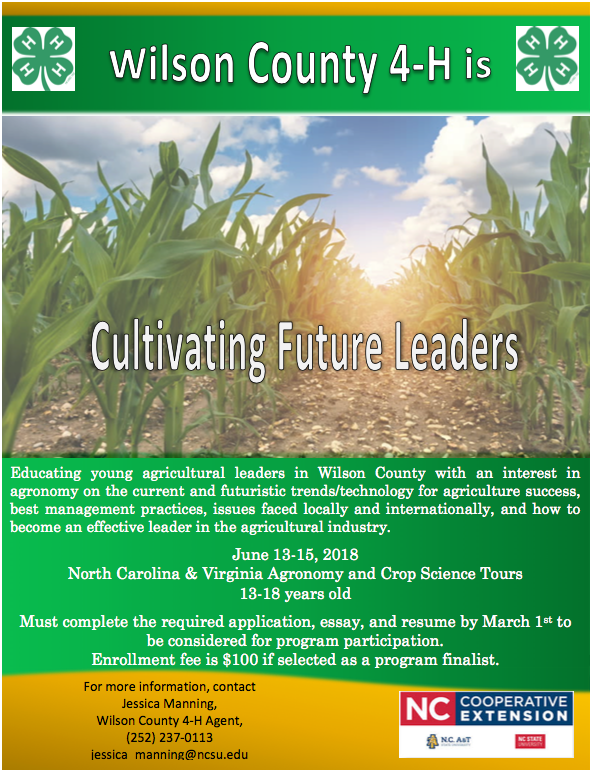 The Cultivating Future Leaders program, offered by Wilson County 4-H, is designed to educate the young agricultural leader with an interest in agronomy. Participants will learn about today and tomorrow's agricultural trends, technologies, uses, management practices, and issues. The program is offered to those 13-18 years old with an agricultural background and/or be pursuing a degree/occupation in agriculture upon high school graduation. Up to 9 participants from Wilson County will be chosen that are in good standing academically and the law.
In order to participate, interested teenagers must go through a rigorous selection process. An application, essay, and resume must be submitted by March 1. Packets will be judged by a panel of agricultural specialists. Selected participants and alternates will be announced by April 1, with a contract signed by April 10. The program will take place June 13-15, 2018, and will be a tour of North Carolina and Virginia agricultural sectors and farms.
There is a $100 fee if chosen to participate in this program. Lodging, van usage, gas for van, meals, insurance, tour fees, DISC assessment activation, shirts, and participant name badges will be covered by program sponsors and donors.
If you or someone you know is interested in this program and meet the qualifications, please download, complete, and return the packet found at the link below. Packets are DUE to Jessica Manning by March 1.
Cultivating Future Ag Leaders Application Packet
4-H Enrollment Packet (this must be completed for 2018 if not done already)
Contact the Wilson County Cooperative Extension/4-H office if you have any questions or would like to help sponsor this program.