Darden Darlas Robotics Challenge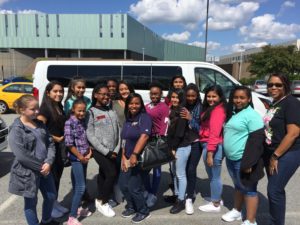 Fifteen (15) young ladies from Darden Middle School, in Wilson County, will participate in the LEGO First Tech Challenge Robotics competition for the first time.
Through this program participants follow a sports model, FIRST® Tech Challenge teams (10+ members) design, build, program, and operate robots of their own design to play a floor game in an alliance format.
Guided by adult coaches (Kenyatta Dixon, 4-H Agent, and Edwina Lucas, Assistant Principal) and mentors, students develop STEM skills and practice engineering principles, while realizing the value of hard work, innovation, and sharing ideas. Participants who stick with this program have access to tens of millions of dollars in college scholarships. These young ladies look forward to representing Wilson County at the State Qualifying Competition, in February.
For more information, contact Kenyatta Dixon at (252) 237-0113 or ktlanier@ncsu.edu.