Poultry Show and Auction at the Wilson County Fair!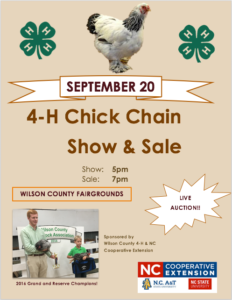 Do you enjoy chickens? Come by the Wilson County Fair on September 20, 2017, to watch 4-H'ers across Wilson County compete for having the best in show chicken! The show starts at 5pm and the auction happens around 7pm. The Chick Chain program in 4-H gives participants up to 5 1-day old chicks the first week of May. They must raise these young birds until the county fair. They pick their finest pullet (female chicken before maturity) and show her. After the Grand and Reserve Champions are awarded, a live auction is held. You could walk away with the Grand Champion! These birds are inspected and banded by the NCDA prior to showing to make sure there are no diseases being carried. The funds raised from the auction will go back to the next year's Chick Chain program and each 4-H'er for their future projects and future college educations. If you would like more information, please contact Jessica Harris at 252-237-0113 or jessica_harris@ncsu.edu.
Breeds to be shown include:
buff rocks, rhode island reds, silver-laced wyandottes, silver-spangled hamburgs, brown leghorns, golden polish, black starts, and light brahmas
Was the information on this page helpful?
This page can also be accessed from:
go.ncsu.edu/readext?486236