Squash
As an avid vegetable gardener I love to add new vegetables to my garden. Even if I can't find something I have never grown before I can incorporate a different variety of some of my favorite vegetables. February is a great time to go through seed catalogues and order seeds before spring arrives.
One-way to find new and improved vegetables is to look for AAS (All America Selections) symbol. This year Squash Bossa Nova is an All American Selection winner and one that I think will do great in your vegetable garden.
Bossa Nova zucchini has a beautiful dark and light green mottled exterior and is more pronounced than other varieties you may have seen on the market.
The plant is a compact grower about 24 inches tall and 4 feet wide. It produces fruit earlier in the season, which is a good thing if you ever had issues with squash borer. It can also produce fruit for up to three weeks longer than similar zucchini varieties. The fruit weigh about 8-10 ounces when ripe. It is suggested to harvest every other day to make sure fruits don't get over ripe.
As with all summer squash plant in full sun once the soil has warmed up. 'Bossa Nova' is resistant to Zucchini Yellow Mosaic Virus and to Watermelon Mosaic Virus.
As for taste, judges deemed the smooth flesh texture and sweet mild taste much improved over other summer squash.
The mottled appearance helps you to see the fruit so no more missed baseball bat size zucchini!
For more information on squash or any gardening topic contact the Wilson Extension Master Gardeners at 252-237-0113 Wednesday's from 1-3 PM or email at wilsonemgv@hotmail.com.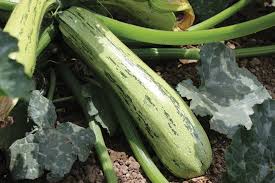 Was the information on this page helpful?
This page can also be accessed from:
go.ncsu.edu/readext?339756